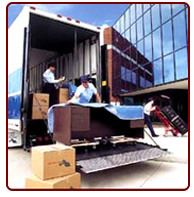 SHARMA Packers & Movers -A unit of Network Logistics (India) is a premier Domestic & International Packers and Movers company providing comprehensive packing moving solutions and logistic services. We have been serving Individuals, Household Client as well as Corporate client and setting new benchmarks in the Domestic and International relocation service industry with our innovative thinking, customer centric approach and technology driven process. Based in Delhi, we have branches and associates at all metro and major business centers in India.
Moving is always stressful; and the further you move, the greater the stress. The stress of moving out of your familiar surroundings of a known place and the anxiety of a new place, new people with new hopes and aspirations… there are lot of things to be done, and less time left. You've got a lot on your mind, so leave the moving to us. It's one less thing to have to worry about. With years of experience in movers packers industry, we understand this, and we undertake to remove your worries as we move your possessions safely to a new destination. We very well understand your feeling of uncertainty and anxiety focusing on your needs and deliver a quality, dependable and affordable movers and packers service.
As a pioneer in the field of Packing and Moving, our full movers and packers services include packing & moving, loading & unloading, transportation, packing & unpacking and rearranging. We also offer other related services like Car Carrier & Transportation Services, Cargo Services, Warehousing Services, Insurance Coverage Services, etc. We do it all and always ensure that the goods are transported without any damage and that the goods reach the final destinations on time and absolutely without any damages. We also specialize in International Freight Logistics and provide a fully coordinated service (including all freight movement, handling and documentation) with collection at the shipper's premises to deliver at the final destination.
We are a premium transportation and logistics company that can carry your cargo safely and on time. Our team of highly dedicated, experienced and competent members who religiously work for the satisfaction of our customer's needs truly and effectively. Our expertise, global reach and qualified team ensure logical solutions to the most crucial logistic needs, requirements and challenges faced by our customers. We emphasize on transportation management to cater your diverse needs as quickly as possible. We, with various vehicles, nation-wide business network, and development of computerized vehicles assignment system, have constructed comprehensive transportation method to meet every need. We constantly re-invent ourselves to achieve our customers trust, comfort and contentment without compromising on quality, clarity and sincerity!
For more information, please feel free to write to us at – info@sharmapackersandmovers.com to register for an office movement. We also assist with complete packing , moving and storage solutions.