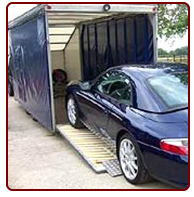 Safe and sound transportation of your vehicles is our prime concern. We acquire specially designed containers and trailers to load and unload cars very safely using high power jacks and ramps. Wherever car trailers are not available we can send them through our reliable goods carrier with an escort. Our expert skills and complete dedication backed by modern technology and our immense care ensures smooth speedy and swift transition of your vehicle which is the no doubt one of the most prized commodity you posses. With us, your vehicle is in secure hands and remains intact in the transportation procedure. Also, vital issues like insurance, custom clearance etc are all handled by us..
For more information, please feel free to write to us at –
info@sharmapackersandmovers.com
to register for an office movement. We also assist with complete
packing
, moving and
storage
solutions.